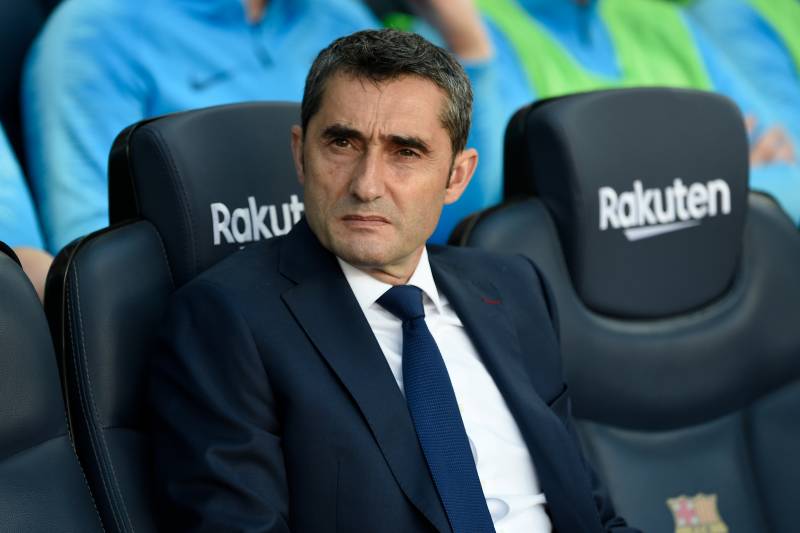 JOSEP LAGO/Getty Images
Barcelona president Josep Maria Bartomeu has confirmed manager Ernesto Valverde will remain at the club next season.
Per Sport, Bartomeu said:
"The planning for next season is already underway, for some time. There are layers that have been signed and we will talk about it after the (Copa del Rey) final.
"Valverde I said the other day has the support of the president and its board. He's the coach that we want. This is a medium to long term project.
"He has a contract and we're very happy with him. Now it's about the players recovering from the blow to their morale."
Valverde has overseen two spectacular collapses from Barca in the knockout phase of the UEFA Champions League in as many seasons.
Last year, the Catalan giants lost 3-0 at Roma in the second leg of the quarter-final, exiting the competition on away goals having won the first leg 4-1.
Earlier in May, the Blaugrana were humbled 4-0 by Liverpool at Anfield in the second leg of the semi-final after beating them 3-0 in the home leg.
ESPN's David Cartlidge was among those who called for Valverde to be relieved of his duties as a result of the capitulation:
Second season in a row Valverde has been a coward. Clueless when it came to making big decisions at the moment it mattered most. Barça clearly in adversity and he did not know what to do.
Once, you can forgive Valverde. A second time is too much. He's learned nothing from the experience last season and has shown an inability to be flexible in his approach. His mentality, unfortunately, is well below that of what Barça aspire to be.15310:18 PM – May 7, 2019Twitter Ads info and privacy96 people are talking about this
Despite the Champions League disappointment, Barcelona left-back Jordi Alba came out in support the coach, per ESPN's Samuel Marsden:
Jordi Alba: We're delighted with Valverde. Before Anfield, we were the best in the world and one day after no one is worth anything, we're old, we need to bring in replacements… I hope the boss continues. He's given me life.2178:53 PM – May 12, 2019Twitter Ads info and privacy81 people are talking about this
While Barca have been a disappointment under him on the European stage, they have continued to dominate domestically.
The team lost just once in La Liga last season as they won the title by 14 points, and they also won the Copa del Rey for the fourth year running.
They've already wrapped up the title again this season and will face Valencia in the Copa final.
Football writer Andrew Gaffney believes Valverde's domestic achievements deserve move respect from Barca supporters:

Andrew Gaffney✔@GaffneyVLC · May 12, 2019

The irony of some FC Barcelona supporters who want Valverde out for 'only winning the league and domestic cups but not the CL' yet bow to Pep's trophy haul which consists primarily of.. league titles and domestic cups.

"It's about how we were eliminated." To a degree, sure, but if Valverde had gone attack vs attack against Liverpool and narrowly lost, you'd call him naive. Pep is proof winning the CL isn't easy (only managed it twice in four seasons with the GOAT team and zero since).757:10 PM – May 12, 2019Twitter Ads info and privacy31 people are talking about this
Witnessing bitter rivals Real Madrid win four Champions League titles in five seasons has perhaps skewed expectations at the Camp Nou, particularly as Barca have largely been superior to Los Blancos domestically and in head-to-head meetings in that time.
Winning a domestic league title is a better indication of consistency and quality than a knockout competition, so for Valverde to win it comfortably in both his campaigns as Barcelona manager shows the calibre of the job he's done.
He can't afford any more failures on the European stage, though—it's difficult to imagine he could survive another.