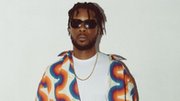 Maleek Berry releases new single, 'Flashy." (Instagram/MaleekBerry)
This beat is infectious.
Date: June 14, 2019
Song Title: Flashy
Artist: Maleek Berry
Genre: Afro-fusion, Vibes
Producer: Maleek Berry
Album: TBA
Label: TBA
Details/Takeway: After his appearance on The Tonight Show with Jimmy Fallon, Maleek Berry is back with this one.
It runs on a smooth, infectious beat and a ton of adlibs.
You can listen to the new single below;