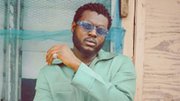 TG Omori documents a war-torn Nigeria with Yung L's 'Aye'. [Instagram/YungLMarley]
The video documents war-torn Nigeria, death and poverty.
Artist: Yung L
Song Title: Aye
Genre: Vibes, Afrobeats
Date of release: August 4, 2019
Album: Jollification
Producer: Ayzed
Label: Zimmlife Entertainment
Video Director: TG Omori
Details/Takeaway: J-Town exponent, Yung L is back with a video for the first track of his April 2019 EP, Jollification.
You can watch the video below;